Audio Score – Mcintosh C49 AC – Audio Components
Review
Introduction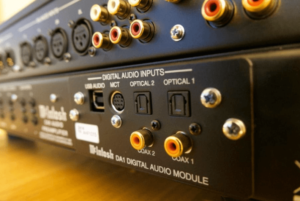 The Mcintosh C 49 is a two channel, high end audio preamplifier. 
In the Mcintosh Line-Up it is currently the entry level model, with a price of around USD 5000. Before I start talking about the C49, a little bit of history on the manufacturer Mcintosh itself. Mcintosh was founded in 1949 and since then has been manufacturing remarkable audio products out of Binghamton New York. Most of their products are still handmade and among them are some very special one. This is one for example from Woodstock in 1969.
The C49 is a high-End product, not only for the sound, but also for the price.
Moving back to their current entry level C49, I am now going to talk about my own unit, which I bought last year at Hifi Audio in Düsseldorf. If you ever have the chance to check out hifi-audio in Düsseldorf, please do. They are not only very competent, but also have a huge selection of high-end stuff. For the last 20 years, I have been a happy customer and can highly recommend a personal visit or digital on: hifi-audio.de
Let's start with the Audio Components Review of the McIntosh C49.
This A3S – score review is quite simple, with 3 main chapters: 
The first part SIGHT focusses on the score of the device. Based on my personal experience, I will rate the preamp in various categories, give a score for the current value and the give it an audio-score. The total score is 40 points maximum.

The second part focusses on the SOUND aspects of the device, with a maximum of 50 points. 

Last, we have the VALUE part, that accounts for 10 points.
If you would like me to feature your device, please feel free to contact me or visit my website audioscaleurs.com
Time for the Audio Components Review!